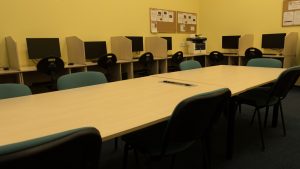 R135 is located on the first floor. After exiting the main stairs turn left, go round the building, R135 is the last door on right. You have to use your Student card to enter.
It is open Mon – Sun 7:00 – 21:00. At weekends you can enter the building only if the building is open (the building is open on Saturdays only if lecrures take place).
Twelve PC, 2 of them with english Windows 10 and Office.
Printer, copier, scanner:
It is possible to use a printer / scanner / copy machine in the study room.
To use it, you need to charge your student card with credit. Credit can be deposit with MyQ terminal which is located in the same room next to the door. You can use your charged credit also for printing at the Library study room (ground floor).
Information about your balance can be shown on terminal.
Prices for printing:
A4 (one sided): 2,- Kč
A4 (two sided): 3,- Kč