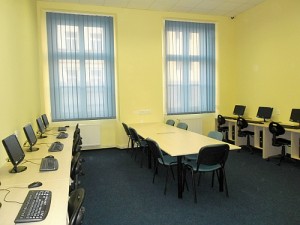 1st floor: turn left from the stairs, go round the building, use your Student card to enter.
Mo – Sun 7:00 – 21:00. At weekends you can enter the building only if some teaching is organized.
12 PC: 2 of them with english Windows
Printer, copier, scanner:
You can print on a priner in PC room. You can insert money on your study card using the cash terminal in PC room.
Prices: A4: 2,- Kč, A4 duplex: 3,- Kč